Approximatly 1 in 5 Americans Suffer from superficial venous insufficiency, which is what causes varicose veins and can cause other systems that impact daily life. Vein disease and varicose veins are not just unsightly, they can cause pain, swelling, tender areas and tired legs. Without treatment veins get progressively worse and can lead to more serious complications including blood clots, hyperpigmentation, skin ulcers and bleeding.
Our VenaCure EVLT Procedure eliminates varicose veins without a hospital procedure, no lengthy recovery, and minimal side effects. The procedure takes less than an hour and offers a 95% success rate and is typically covered by insurance. This treatment has been the most effective vein therapy available. It is fast, sate an done in our office in Monterey, California. 
The Vein Treatment Therapy procedure uses a quick, minimally invasive laser procedure that leaves no scar, has a short and relatively pain-free post operative recovery period and in performed under local anesthesia in Dr. Keller's offices. The initial visit involves both a physical and ultrasound examination to map the veins to be treated.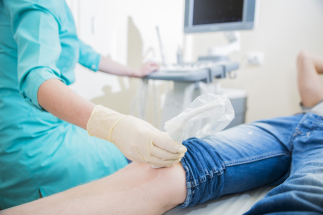 Dr. Keller also uses Sclerotherapy, a tiny needle to inject a medication that irritates the lining of the vein. In response, the vein collapses and is reabsorbed. Surface veins are no longer visible. Depending on the type and number of veins being treated, you may need anywhere from one to several sclerotherapy sessions, and have several injections per session. Normal activities can be resumed after sclerotherapy treatment.
VenaCure EVLT and Sclerotherapy is often covered by many insurances. We accept most types of health insurance. Please contact us for further details. We are in network with Aetna, Blue Cross, Blue Shield, Blue Cross/Blue Shield, Cigna, Coastal, Delta Health, Medicare, Tricare, and United Healthcare.
To schedule a consultation please contact us or visit our office in Monterey, California. Please bring your insurance card to your consultation. Our consultation for vein treatment is not free but it is frequently covered by insurance. Please call our office at 831-373-1100 and speak with our staff for more information.
"Since I had your treatment for varicose veins the following is my observation before and after.
I am a member of the USA Cycling Master's Racing, age 55+ CAT:2.  That said, I use my legs a great deal. My heart and lungs is my engine and my legs are the pistons.
Prior to you performing the varicose vein treatment, laser followed by various injections. Both my ankles and calves used to be much larger in size. Plus I suffered with what we cyclist call wooden legs. Legs that are heavy and lifeless. During and after completing many racers, I would get leg cramps.
Since the various vein treatment, I have noticed the following:
Both my ankles and calves are now much thinner, maybe due to not holding all that blood, that was not being circulated.
The wooden legs seem to be no more, of course I have fatigue after hard training and racing. I can recover from the fatigue much quicker.
I have not had a leg cramp, since the treatment.
I'm able to sustain a higher power level longer when climbing, this is really a plus when racing.
My Endurance Wattage has increased, by at least 10 Watts. That's a large improvement.
I just completed the so called "Death Ride". It's 120 miles with 15,000 feet of climbing. The ride starts in Markleville CA, over and back Monitor Pass, Ebbetts Pass and finishing on Carson Pass. A total of 5 passes, my time was 8 hours 12 minutes. My coach said it was one of my strongest efforts for this ride. Just to put it into perspective, weather conditions were 95 degrees, with a 20 mph head wind.
My Sweet-Spot training has increased from 298 Watts, to 314 Watts for 45 minute duration. It's increasing a few watts by every Sweet-Spot training session. The goal is to achieve a Sweet-Spot Wattage of 325-330 Watts for a duration of 45 minutes. This is very achievable. 
As you can see, I'm no couch potato the varicose vein treatment for me, has benefited my cycle racing and my wellbeing."
Short on time? Simply send your enquiry here and we will get back to you with more information.